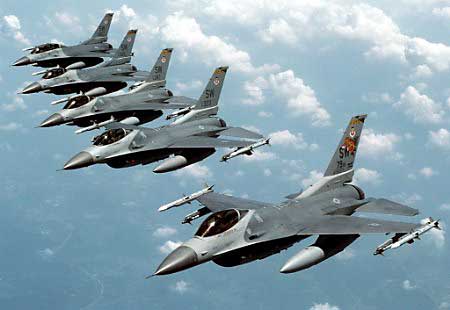 BY ADMIN-
WARSAW, Poland - Russia on Dec. 9 warned Poland against hosting U.S. F-16 fighter jets, possibly from 2013, saying it would work to counter the move.
Polish Defense Minister Bogdan Klich announced last month that his country would accept a U.S. proposal to host rotations of F-16 and Hercules transport aircraft and their crews on its territory.
A statement issued by the Russian defense ministry on Dec. 9 said that Moscow would "take into account the American-Polish plans and carry out [its] own armed forces development projects."
It did not elaborate but added: "We believe that different decisions would be better in the interest of European security."
On Nov. 18, Klich said: "The Americans will come, conduct exercises with Poles and return home. Then, they will return periodically to Polish soil."
He added that the F-16 and Hercules rotations would be similar to those of U.S. Patriot missiles which began rotations in Poland in May.
"The American presence on our territory constitutes an additional guarantee, an additional assurance that we are in an alliance where our allies would come to our aid if the situation warranted," Klich said.
He also announced that in 2013 Poland and the three Baltic states would host, in an exercise of the NATO Response Force (NRF), a multinational contingent of about 25,000 troops available for rapid deployment in crisis management, stabilization or collective defense.
Russia and Poland, a former Soviet satellite nation, have had strained relations since the fall of communism in 1989 and the demise of the Soviet Union two years later, and notably after Warsaw joined NATO in 1999 and the European Union in 2004.