The Indian Navy issued an RFI for the procurement of 20/30 mm Close in Weapon System on April 9. The goal is to procure approx
twenty five
20-30 mm CIWS with the following subsytems -
A surveillance-cum-tracking radar

An Electro Optical (EO) system

Integrated SAM system

A 20-30 mm caliber gun alongwithgun control system
Major requirements sought in the RFI include -
Ability to search & track both sea & air targets over a 360° arc

Ability to target sea-skimming missiles

Fast switch ON capability

Built in Camera & Thermal Imager

Direct interface with ship's combat management system
Last date to respond is 30th May. For foreign vendors, the usual offset requirements apply.
Likely these CIWS systems are meant for the Vikramaditya carrier & the new Project 15A destroyers.
So what would be the best solution for Indian Navy ? Well here is the best CIWS available in market for grab.
The Phalanx® CIWS advanced radar-controlled gun system provides superior defense against close-in air and surface threats.The Phalanx Close-In Weapon System is a rapid-fire, computer-controlled, radar-guided gun system designed to defeat anti-ship missiles and other close-in air and surface threats. A self-contained package, Phalanx automatically carries out functions usually performed by multiple systems -- including search, detection, threat evaluation, tracking, engagement, and kill assessment.
General Characteristics:
Primary Function:
Anti-ship missile defense
Contractor:
Raytheon Systems Company (formerly Hughes Missile Systems Company and purchased from General Dynamics Pomona Division in 1992)
Weight:
12,500 pounds (5,625 kg) - Later models: 13,600 pounds (6,120 kg)
Range:
Range @ 45 degrees -
5,500 m
Maximum effective range-

1,490 m
Gun Type:
M-61A1 Gatling
Type of Fire:
3,000 rounds per minute - Later models: 4,500 rounds/min (starting 1988 production, Pneumatic Gun Drive)
Magazine Capacity:
model 1B1: 1,550 rounds
Ammunition:
Armor Piercing Discarding Sabot (APDS), Depleted Uranium sub-caliber penetrator. Penetrator changed to Tungsten 1988. Block 1B will incorporate the new Enhanced Lethality Cartridge with a heavier penetrator.
Sensors:
Self-contained search and track radar with integrated FLIR.
Unit Cost : USD$ 7-8 million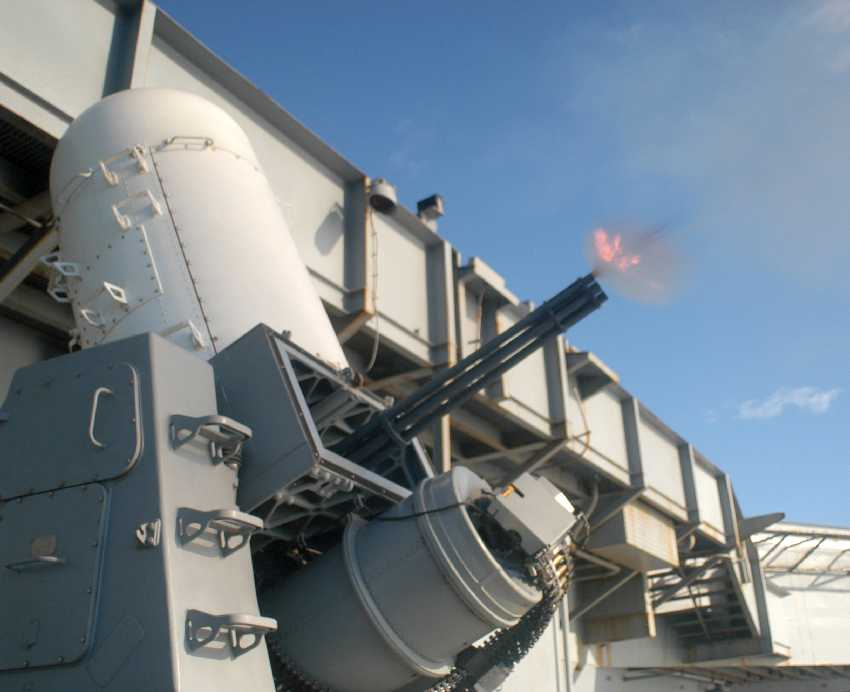 In July 2007 at IMDS-2007, a modernized version of the AK-630M1-2 was showcased by OAO AK Tulamashzavod under the new name "Duet". Visually "Duet" differs from "Roy" in having a new mount with a stealthy low RCS design compared with the more traditional rounded AK-630 mounts.
In 2012 ,it was announced that the new Ivan Gren-class landing ship would be armed with the modified AK-630M-2 system.
P-44 (Pr. 206.6) missile boat

3M87 "Kortik"




CV Admiral Kuznetsov (Pr. 1143.5), BC Admiral Nakhimov (Pr. 1144), Neustrachimy (Pr. 1154) class frigates

AK-630: 1976




AK-630M: 1979




AK-306: 1980




3M87: 1989

AO-18 (for AK-630): under 452 lbs. (under 205 kg)




GSh-6-30K (for AK-630M1-2): 352.5 lbs. (160 kg)

Cost per Unit

AK-630M 2: 10,000 rounds per minute
1.834 - 1.839 lbs. (0.832 - 0.834 kg)

Projectile Types and Weights

HE-FRAG (OF-84) - 0.86 lbs. (0.39 kg)




FRAG tracer (OP-84) - 0.86 lbs. (0.39 kg)

HE-FRAG (OF-84) - 0.107 lbs. (0.0485 kg)




FRAG tracer (OP-84) - 0.026 lbs. (0.0117 kg)

All: 2,953 fps (900 mps)




3M87: 2,822 fps (860 mps)




Palash: 3,609 fps (1,100 mps)

AK-630: 8,000 rounds (automation resource)

Ammunition stowage per gun
The system is designed for self-defense of ships and ground-based stationary objects against various air threats, including anti-ship missiles flying at extremely low altitudes, as well as for engagement of small-size seaborne and ground targets.
When firing against an anti-ship missile the hit probability is nearing 100% as the result of its engagement at three lines – twice by surface-to-air missiles and once by guns.
--High firing rate of guns with burst duration equal to 1,2 sec ensures effective destruction of targets before they reach 300-500 m line.
Well these are the best CIWS available in market which Indian Navy can look into,however out these, Indian Navy already a big time user of AK 630 and Kasthan.But they are from Soviet era and stands no where, when compare to New Generation CIWS from Russia.Also Indian navy,INS Jalshwa which was purchased from US has Phalanx CIWS but from older Generation lagging FLIR and new Gun
.
On Paper Kasthan M,(thanks to Missile-Gun Combo) is looking much better than any other CIWS. But we know how reliable and trusted Russian systems are.In Practical,Phalanx is the only battle tested system.