Saurav Jha Blog:
Not all Armies in the world fight with a domestically developed standard issue rifle. The Indian Army (IA) however is not one of them and for the past two decades has been equipped with the Ordnance Factory Board (OFB) built and Defence Research and Development Organization (DRDO) designed INSAS family of rifles. Nevertheless in a bid to acquire a rifle suited to 'modern battlefields' IA is looking for a next generation assault rifle with modular, multi-calibre characteristics whereby the same basic lower receiver can fire bullets of different calibre through a rapid field change of barrel, bolt carrier group (BCG) and of course the magazine. IA's current approach to procuring this purported new species of assault rifle (AR) for its infantrymen seems two pronged. On the one hand IA has rolled out a tender for an AR of imported design that it intends to get licensed produced by OFB while on the other it is watching the progress of indigenous efforts to develop a next generation multi calibre individual weapon system (MCIWS).
IA however should not let the pursuit of 'next gen' over ride reliability and cost considerations. After all, both modernized and unmodernised versions of the venerable AKM series continue to be the main rifle equipping its insurgent adversaries even in 'modern settings'. And the old H&K G-3 is the Pakistani standard issue with the Chinese opting for the bull-up QBZ-95 which isn't exactly the greatest thing after cheese either.
IA's move to obtain a modular (subsuming multi-calibre into modular for simplicity) AR as its new standard infantry weapon began in 2011 when it sent out request for proposals (RFPS) to some forty small arms manufacturers across the world. This tender is for an initial 66,000 rifles supplied off the shelf followed by the license manufacture of at least an additional 100000 units domestically in India. Unsurprisingly, a tender of this size has attracted interest from some of biggest names in the world who incidentally have been exhibiting modular developments of their 'stock' offerings for some time now.
The modular concept for assault rifles increasingly revolves around the ability to 'rapidly' switch between the ability to fireNATO 5.56 X 45 mm,Eastern Bloc 7.62x 39 mm,the older NATO 7.62 x51and even emerging 6.8 mm and 6.5 mm rounds. This need to an extent has grown out of the experiences of NATO 'special forces' operators in the battlefields of Iraq and Afghanistan wherein the standard 5.56 x 45 mm round was found to have inadequate 'stopping power' against determined insurgents in various scenarios. Equipped with carbine derivatives of NATO AR families which fire the 5.56 mm round optimized for accuracy at short ranges and full auto mode fire, these operators often found themselves at a disadvantage vis a vis insurgents firing heavier 7.62 x 39 mmAKM rounds (albeit not that accurately) from further away.
Of course this is somewhat counter to the dominant thinking of the past forty years wherein studies showed that maximum kill ratios were achieved through the use of a greater number of bullets in combat rather than accuracy at range or stopping power. Indeed this was the raison behind the development of the 5.56 mm round in the first place since it is lighter and enables a soldier to carry more rounds than if equipped with7.62 mm bullets. (There is the whole, the lighter bullet tumbles through the body, incapacitation etc etc debate besides other arguments, but I am not getting in there).
The IA of course is no stranger to such issues and it is noteworthy that it prefers AKM derivatives firing the Eastern bloc 7.62 mm in the counter-insurgency role. However for standard infantry combat the IA continues to favour the NATO 5.56 mm especially with newer more effective 5.56 mm bullets under development. Modularity therefore seems attractive to IA since it could 'optimize' its infantry firearm kit depending on the situation since the same units may be tasked with varying assignments in different geographical settings.
Indeed modularity obviously also allows barrels of different lengthsto be used thereby allowing soldiers to customize their rifles for environments ranging from close quarter battle to long range shooting in open terrain. At the moment long range shooting in say a desert like environment is mostly the preserve of snipers and 'designated marksmen' armed with rifles firing high power 7.62 mm rounds either of NATO or Eastern Bloc standard. Of course, 50 calibre rifles have also proliferated in recent times.
The development of modular versions of established AR families therefore has evoked interest in IA which has narrowed down the respondents to three contenders currently undergoing comparative trials. The competitors at the moment are IWI's Galil Ace, Colt's CM-901 Modular Carbine(CMC) and Beretta's ARX-160 with Sig-Sauer USA failing to show up for the competitive trials with SIG-516 family. Interestingly both initial flag bearers of the modular concept Heckler & Koch with its HK-416/417 and FabriqueNationale with its SCAR-L Mk.16 have been found unsuitable in Indian conditions despite these rifles already being in limited use with NATO special forces.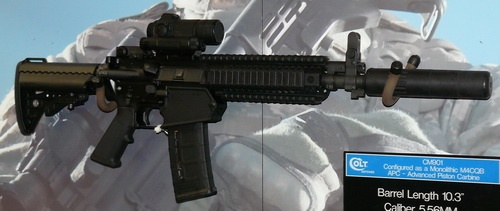 Colt 901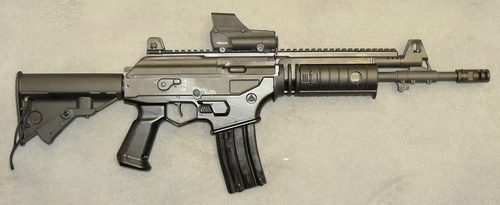 Galil ACE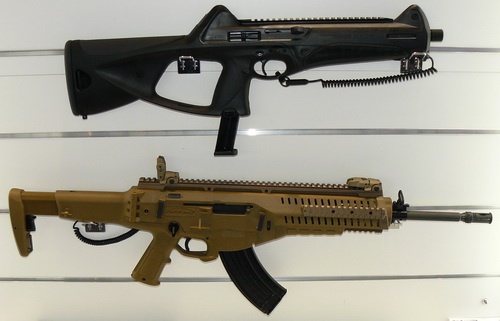 9-mm Beretta MX4 submachine gun and 7.62-mm rifle Beretta ARX 160A2
Among the remaining rifles, leading the modularity sweepstakes is probably the CMC (assuming that is what has been sent for trials and not just a standard M-4) which offers a mind-boggling array of 'combinations' utilizing a proprietary universal lower receiver that allows rapid reconfiguration of calibre, barrel lengths and even operating system. Colt claims that the CMC truly eliminates the need for training on non-standard weapons by infantrymen, something that the IA obviously desires given the fact that its soldiers use AKMs and Vz58s for the counter-insurgency role.
However the CMC is primarily a direct gas infringement (although a hybrid gas operated version may be available as well) weapon having descended from the AR-15 family and therefore its actual reliability in varied Indian conditions remains to be seen.
The gas operated ARX-160 too boasts 'quick change' capability (although Colt would claim that quick change and modularity are not interchangeable concepts) with its ambidextrous ejector and extractor systems that allow rapid barrel and BCG change without the need to handle any pins. The ARX-160 also features at least three ways in which magazine change could be effected including a mode which replicates the operation of a standard AKM.
The ARX-160 also seems to sit well with IA's RFP, since the new rifles have to be capable of hosting an under barrel grenade launcher (UBGL). The 'SoldatoFuturo' program under which the ARX-160 was developed also saw the accompanying creation of the Beretta GLX-160 detachable low impulse/low velocity UBGL which claims to be superior to the standard American issue M203 which will probably accompany the CMC.
Nevertheless the Galil ACE is actually the only remaining specific rifle(I am not counting myriad AR-15 derivatives) in this contest which is being produced under license in a country other than Israel i.e its point of origin. After all this tender is ultimately about the level of technology transfer that the winning foreign firm would be willing to make to the Indian licensee. Galil ACE is already being produced under license by Indumil in Colombia and is reported to be very popular in the South American market.
Now all the rifles under consideration feature MIL-STD-1913 picatinny rail systems mounting a variety of optics, optional polymer magazines and ambidextrous safety/selector switch, bolt catch hold-open/release lever, and magazine release buttons. Indeed these are standard features on any rifle for IA's envisaged 'modern battlefield'.
These foreign designs however do come at a very significant price and IA's current tender has been reported to be anywhere between 250 million to a billion US dollars. The higher figure probably includes the license production component, as well as the cost of imported ammunition and perhaps even UBGLs. Nevertheless, these reported figures are rather high when compared with modular rifle competitions being run by other armies. For instance the British Army looking to retire the SA-80 is in the market for 200,000 units of a modular AR system with a reported tender value of only 160-165 million dollars.
The much higher figures reported for IA's purchase plans are therefore either incorrect or point to the massive royalty payments that international arms manufacturers are seeking for technology transfer obligations. It is at this point that IA needs to ask itself whether replacing an INSAS rifle costing between Rs 15-20,000 at last count with an imported rifle quoted at 6-8 times that figure is really worth the trouble. Do note, that the civilian version of the Beretta ARX-160, the ARX-100, retails at a starting price of $1950 in the United States.
Now imported designs don't always fare as well as they are touted to under Indian conditions and product support from foreign sources can also be iffy. For instance, the Home Ministry's import of over 34000 Beretta MX4 storm sub-machine guns hasn't exactly panned out too well with numerous defects and corrosion marks being found in delivered batches leading to disquiet amongst Border Security Force troops issued with these weapons.
There is no denying that the INSAS rifle family needs development but then that also falls within the lookout of IA itself, which is a key stakeholder in the entire process. As Major General (retd.) Bhupendra Yadav, who has long years of experience with the Department of Defence Production (DDP) in the Ministry of Defence and has a PhD in Operations Management to boot, says 'At the time of introduction in the 1990s it was universally felt that we had a good design on our hands.'
'The issues with the INSAS are known to be on the production side of things,'he continues.'Even there the defects have been identified and should simply have beenrectified with the Army taking the necessary initiative to make the other stakeholders work on this path. After all what exactly are the Master General of Ordnance(MGO) and Director General of Quality Assurance (DGQA) there for anyway? The Army can't suddenly take a standoffish attitude on this and just look abroad.' General Yadav adds emphatically.For those who came late, on OFB's special/extended board are included the MGO and DGQA who are senior serving officers appointed by IA specifically'to represent the users and their interest on quality aspects.' These two gentlemen are supposed get the job done on quality control aspects related to production by OFB.
Now, IA as we can see has been trying to get its next generation infantry weapon for over three years now with no real hope of wrapping up the process anytime soon. As per General Yadav, the time already spent in the process of 'downselecting' imported types since 2011, was more than adequate to develop the next iteration of the INSAS and fix issues with it provided there was sufficient will. '3-4 years gives you enough time to upgrade the INSAS to satisfactory levels,' General Yadav remarks. Although hypothetical, a re-look can be taken at something like the Excalibur, a modernized development based on the INSAS which IA has been rather lukewarm too.
Interestingly, as yet another import tender drags along, one finds articles beginning to make their way into the media exhorting the military to expedite the process, such as this piece in the Hindu the other day (http://www.thehindu.com/opinion/lead/the-big-deal-about-the-armys-small-arms/article6174395.ece). But such articles often make somewhat outlandish claims about performance of indigenously developed weapons that naturally does not go down well with DRDO. Indeed in reply to the Hindu article which claimed that the INSAS apparently doesn't do so well in the Himalayas and hot deserts, DRDO had this to say.
'The trials covered all possible scenarios that a gun of this kind(i.e. INSAS) could encounter or could be imagined to encounter and included sub-zero temperatures at the world's highest located battlefields, the most humid wetlands as well as extreme hot deserts. The gun is available in four variants namely rifle and light machine gun, each in fixed and fold-able butt versions, and offers the option of attaching an Under Barrel Grenade Launcher (UBGL) for launching high explosive grenades upto 400 metres away. The gun makes extensive use of engineering plastics and high strength alloys to withstand boththe rigors of the battlefield as well as varied climates.By 2010, more than a million such guns and more than 1.5 billion rounds of ammunition had been produced and supplied to India's armed forces. It is important to note that while the project cost was merely Rs 3.5 crores, INSAS system had turned over business worth more than Rs 6000 crores by 2010 itself.'
There's no denying that the return on investment on indigenous weapons produced in bulk can be very significant owing to much lower developmental costs. This is precisely one of the reasons why indigenous options in general tend to be cheaper than foreign ones. It should also be noted, that IA wants the very same OFB units to produce the final downselected imported design that have had quality control issues with the INSAS line. It really begs the question as to exactly how OFB units will produce these new next gen imported designs requiring superior machining and finer tolerances to IA's exacting quality standards when they apparently did not always do the same when it came to the INSAS?
Truth be told, there isn't really that urgent an operational requirement for the fanciest new rifles now is there? Because if that indeed be the case, why is IA still at the comparative trial stage for a process it officially began in 2011 with no real end in sight? Given the problems with foreign procurement that is neither cheap nor timely it is time to seriously look at indigenous options again.
Especially at a time when DRDO's home-grown MCIWS is 'out of the stovepipe and into the light' undergoing technical trials. The MCIWS revealed for the first time right here on 'Geek at Large' earlier this year (http://ibnlive.in.com/blogs/sauravjha/2976/65064/a-new-year-for-drdo.html) is an indigenous attempt at a contemporary modular AR exhibiting all the features possessed by the rifles currently in contention for IA's next gen requirement.
Interestingly an indigenous 6.8 mm round has also been developed for use with the MCIWS. The MCIWS' grenade launcher can also fire programmable air burst rounds making it a tie-in for the F-INSAS program. Instead of handing out massive royalties to foreign weapon makers the IA could well decide by putting its weight behind the iterative development of the MCIWS.
Moreover, let DRDO select a production agency(could be from the private sector) for itselfas far as the MCIWSis concerned and give it the option of exporting the weapon irrespective of whether it finds favour with the Indian military or not. If downright imports are 'moral' then downright 'exports' are moral too. Indeed liberalization in this arena should be a two-way street with various classes of FDI allowed and various categories of outright exports allowed too.
And let's not forget OFB either, which warts and all has serious potential and has delivered in the past when there has been 'clarity amongst stakeholders' like in the case of the 105mm Indian Field Gun that continues to be procured by IA even today. Let them upgrade their game in the face of competition. And let the best option win on a proper cost-benefit evaluation based on sustainability, economy and quality with national interest foregrounded.